Local 7803 [MAP]
16328 Renton-Issaquah Rd.
Renton, WA 98059
425-204-8495
Meetings:
General Membership Meetings are the 2nd Thursday of the last month of each quarter (ie. March, June, September and December) at 6:30 p.m.
Request Access via Zoom
E-Board Meetings are the 2nd Thursday of the month at 4:30 p.m.
Stewards Meetings are the 2nd Thursday of even numbered months at 5:30 p.m.

Contribute to COPE Today!

CWA-COPE is the political action committee for the working men and women of CWA, their families and retirees. CWA-COPE informs and mobilizes union families to encourage their participation in the political process.

To contribute just fill out the payroll deduction card and give to your steward. For more information please call the Local.

AT&T Wireless Discounts

CWA members save 15% off the regular monthly rate for individual and family wireless cell phone plans*

Visit Union Plus for more information!

*200MB Data Plan is not eligible for the Union Plus discount
Member Employer News
King County Water District #90
Contract Expires: October 01, 2017
---
Submit Your Bargaining Proposals Online
May 12, 2012
We need to hear from you. Please submit your Bargaining Proposals for your company. It is important that we get your input and your bargaining requests to present to your bargaining team for the contract negotiations. Thank you! The Officers of Local 7803
* required

---
Benefit Dinner & Raffle for Josh Deraitus
February 13, 2011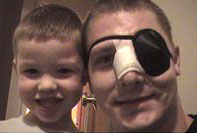 [Source: KCWD#90] Many of you may have already seen the news footage of King County Water District #90 employee, Joshua Deraitus, who was shot in the face in an apparent road rage incident on January 2, 2011 at the intersection of Military Road & 304th in Federal Way. Josh has lost his left eye, part of his nose and has numerous fractures in his face. Thank God, there is no brain damage and Josh is doing much better then anticipated. Recovery is expected to be a long and expensive process. In addition, Josh's family is working to raise money to increase the reward offered for information to help catch the shooter as there is no information or leads at this time.
A fundraiser to help support Josh in his recovery and to help pay the reward has been set. There will be a spaghetti feed, music and raffle. Adults will receive 1 drink ticket. Raffle tickets for all items will cost $1.00. Jay Berry's has graciously donated their restaurant and time for the evening. If you would like to attend please visit the family's Facebook Event Page or call Inga (see below). If you can donate products or services for the raffle, please use this Donation Form.
Where: Jay Berry's Cafe
16341 SE Renton-Issaquah Rd, Renton, WA 98059
Date: Sunday, February 20th
Time: 5:00 pm
$15 Entry for Dinner ($10 for kids)
If you have questions, comments or would like to donate raffle items or monetary gifts please contact Inga Flaherty at 206-369-6178 or email: ingaflaherty@yahoo.com.